About the Artist
Captured at various thresholds – between youth and adulthood, innocence and experience, public and private realms – and situated within a shifting terrain of interior and exterior spaces, the figures in Hernan Bas' paintings are charged with potential. Bringing to mind poles of intellect and physicality, the androgynous young men in these paintings engage in rituals of courtship, love and death that seem to be based on a theatrical exaggeration of emotion. The construction of identity and dispersal of meaning are rendered thematically and pictorially fraught. Bas embellishes and destabilises as he describes, his brushwork often threatening to engulf, his colours edging towards over-ripe or chemical hues suggestive of transformation or intoxication.
In Focus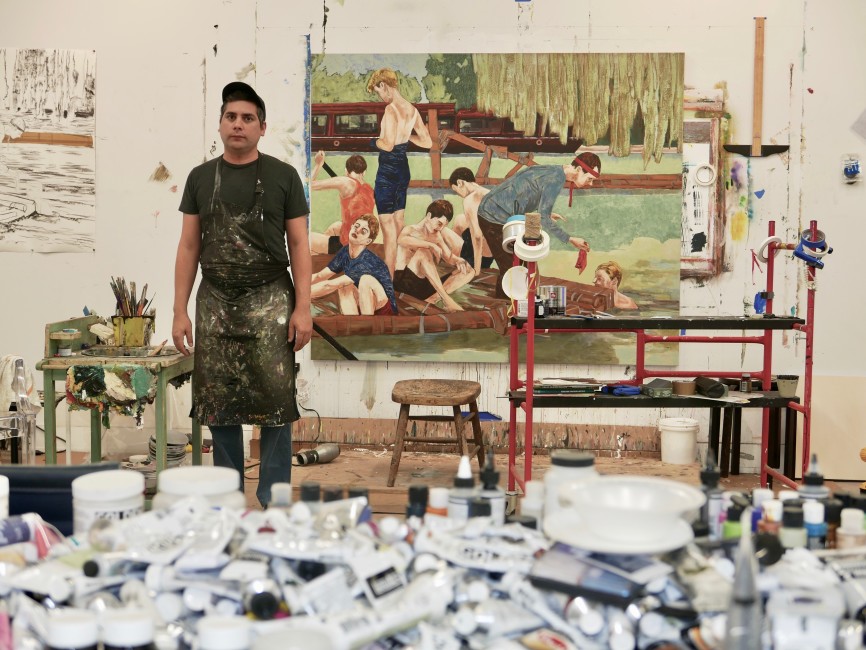 Invited as a visiting artist by Jesus College Cambridge during the autumn of 2016, US artist Hernan Bas spent time in the college and city researching the legends, rituals and rites of Cambridge life, past and present, from its legendary drinking societies to its daredevil 'Night Climbers'. A year in the making, the resulting paintings and works on paper can be seen in Cambridge Living at Victoria Miro Mayfair (6 September – 21 October 2017).
Here, Bas shares some of his source material, reveals works in progress and reflects on his time in the city and its influence on his latest body of work.
September 6, 2017
Previous exhibitions at Victoria Miro