About the Artist
In collages, films, sculptures and installations Wangechi Mutu reflects on sexuality, femininity, ecology, politics, the rhythms and chaos of the world and our often damaging or futile efforts to control it. First recognised for paintings and collages concerned with the myriad forms of violence and misrepresentation visited upon women, especially black women, in the contemporary world, Mutu's work has often featured writhing female forms. Their skin an eruption of buboes, mutant appendices like gun shafts or machine gears sprouting from the sockets of joints, their bodies half human, half hyena, they offer a glimpse at the perversions of the body and the mind wrought by forces active in the oppression of women. More recently, exploring and subverting cultural preconceptions of the female body and the feminine, in her works Mutu proposes worlds within worlds, populated by powerful hybridised female figures. Her practice has been described as engaging in her own unique form of myth-making, one in which the interweaving of fact with fiction opens up possibilities for another group of symbolic female characterisations, markedly different from those that appear in either classical history or popular culture.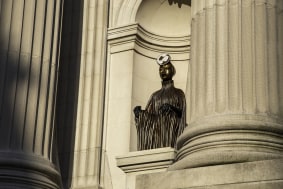 Artist Interview – Wangechi Mutu: The NewOnes, will free Us
In this Metropolitan Museum of Art film, the artist discusses the inspiration and making of The NewOnes, will free Us, an exhibition of four sculptures that inaugurates The Met's annual facade commission, on view 9 September 2019-8 June 2020.
'I feel like this particular commission of asking a contemporary artist to place something in these niches in the facade of The Metropolitan, for me, is one of the most proactive moves that a museum could make at this particular moment. The space has been empty since the Museum was built.
When The Met approached me about this idea, I was actually looking at caryatids. Caryatids, throughout history, have carried these buildings to express the might and the wealth of a particular place. In Greek architecture, you see these women in their beautiful robes, and then in African sculpture across the continent you see these women either kneeling or sitting, sometimes holding a child, as well as holding up the seat of the king.
It felt like this was a very ubiquitous position for women across many, many histories. How do I use this figure to change this conversation and this issue? I wanted to keep the DNA of the woman in an active pose, but I didn't want her to carry the weight of something or someone else…'
Image: Installation view of The Seated II, 2019 for The Facade Commission: Wangechi Mutu, The NewOnes, will free Us, 2019.
Courtesy of the Artist and Gladstone Gallery, New York and Brussels
Image credit: The Metropolitan Museum of Art, Photo by Bruce Schwarz
Previous exhibitions at Victoria Miro