Hernan Bas: Cambridge Living
6 September - 21 October 2017
Victoria Miro Mayfair
Hernan Bas: Cambridge Living
6 September - 21 October 2017
Victoria Miro Mayfair
Information
14 St George Street, London W1S 1FE
Following a period of research while in residence at Jesus College Cambridge in 2016, Bas has developed new subject matter including the famed 'Night Climbers of Cambridge', a group of students whose nocturnal ascents of the ancient buildings of the university and town, taking photographs while trying to avoid detection, gained them a cult following during the early decades of the twentieth century. The notoriety of this thrill-seeking fraternity was cemented when an eponymous book, written under the pseudonym Whipplesnaith, was published by Chatto and Windus in 1937, featuring photographs of members perched atop steeples and squeezed between pillars without climbing ropes and often dressed in dapper evening attire.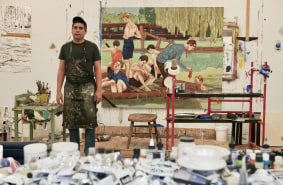 Hernan Bas reflects on his time at Cambridge and shares his source material for his new body of work
September 6, 2017
Invited as a visiting artist by Jesus College Cambridge during the autumn of 2016, US artist Hernan Bas spent time in the college and city researching the legends, rituals and rites of Cambridge life, past and present, from its legendary drinking societies to its daredevil 'Night Climbers'. A year in the making, the resulting paintings and works on paper can be seen in Cambridge Living at Victoria Miro Mayfair (6 September – 21 October 2017).