From 1 January 2021 at Penn Station's new Moynihan Train Hall, three ambitious site-specific permanent installations by artists Stan Douglas, artist duo Elmgreen & Dragset, and Kehinde Wiley go on permanent view. Public Art Fund was invited by Empire State Development to develop and direct a program of ambitious art installations for three prominent sites within the Train Hall. In keeping with the redesigned building's architectural integration of old and new, the art program commissioned three of the world's leading artists to create large-scale, site-specific artworks that reflect broadly on notions of past, present, and future.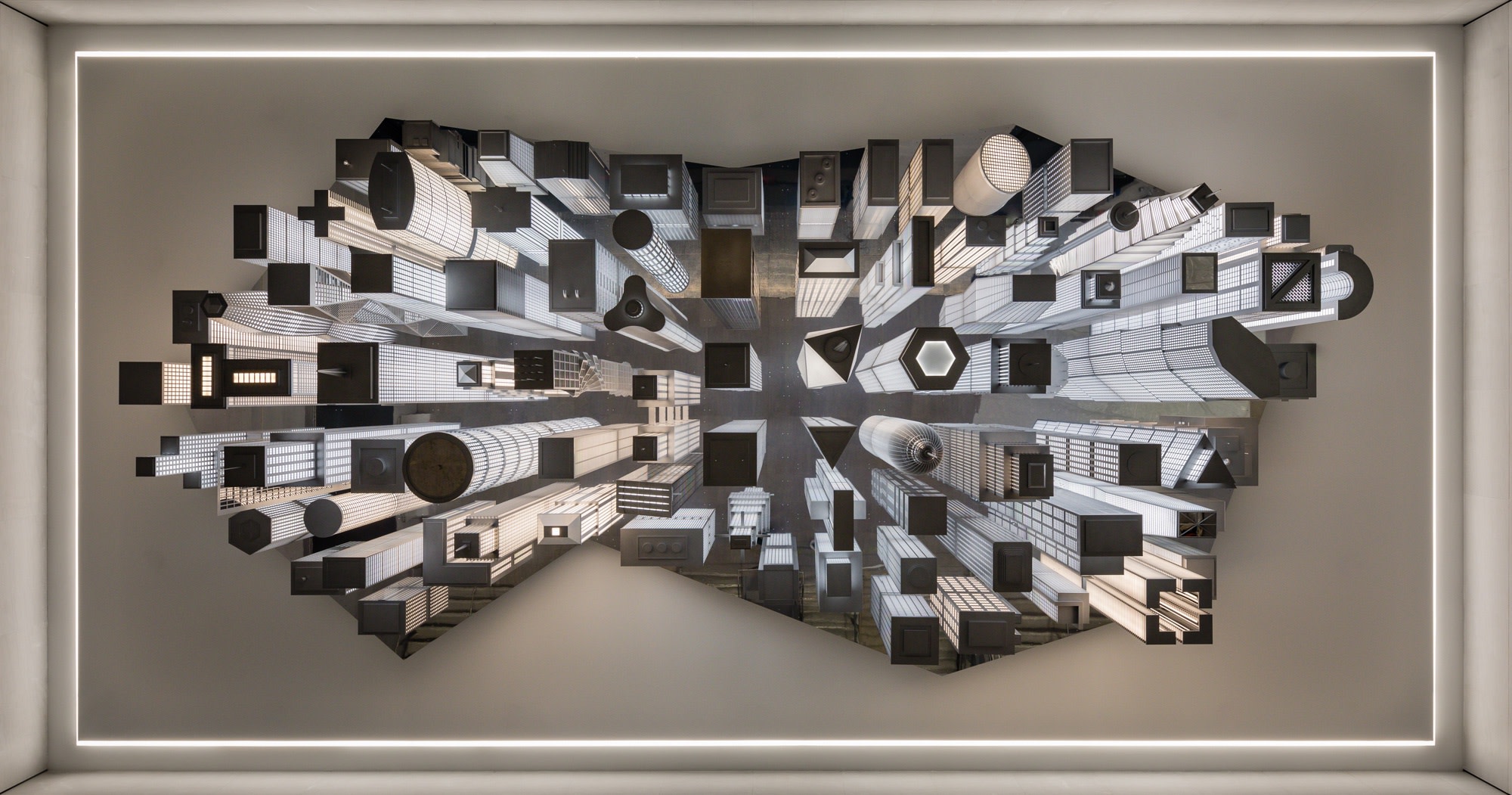 Elmgreen & Dragset have dreamed an imaginary global metropolis into sculptural being, upside down, radiating the city's irresistible urban energy.
Suspended from the ceiling of the 31st Street Mid-block Entrance Hall, The Hive is a 1:100 scaled architectural model that offers a surreal and fantastical vision of a global metropolis. Dozens of illuminated high-rise buildings descend toward visitors, their downturned orientation inviting new and varied perspectives as visitors move around the space. Artist duo Elmgreen & Dragset has combined miniaturized skyscrapers of their own invention with iconic high-rise buildings from megacities around the world, distilling these towers into their most essential forms. This fictional city combines landmarks from Chicago, Hong Kong, Kuala Lumpur, London, and Paris as well as iconic New York City silhouettes.
Titling the work The Hive, the artists suggest a link between natural and human-built structures, like the complex and evolving architecture of a beehive. They have also compared the ceiling-mounted buildings to luminous stalactites that pay tribute to the highly developed cities we live in today while reminding us of our cave-dweller origins. Familiar yet foreign, this uncanny, hybridized representation of an urban center highlights the globalization of architectural design and evokes the influence and interconnectedness of the world's great cities. Like an inverted reflection of the cityscape just beyond the Train Hall doors, The Hive expresses the quintessential idea of New York City as a melting pot where cultures, nationalities, and ethnicities coexist to become greater than the sum of their parts.