About the Artist
Encounters with buildings are grounded by conventions and expectations, but Alex Hartley shows us new ways of physically experiencing and thinking about our constructed surroundings – through surface and line, scale and materials, locations and contexts.
Hartley's work addresses complicated and sometimes contradictory attitudes toward the built and natural environments. His practice is wide ranging, comprising wall-based sculptural photographic compositions, room-sized architectural installations and, more recently, unique photographic works with sculptural elements inserted as low-relief into the surfaces of large-scale colour prints. Uniting these works is an investigation of modern architecture and the ways in which it is conceived and presented. Often destabilising ideas of 'iconic' architecture, Hartley's practice allows room for multiple perceptions of and uses for the built form.
In Focus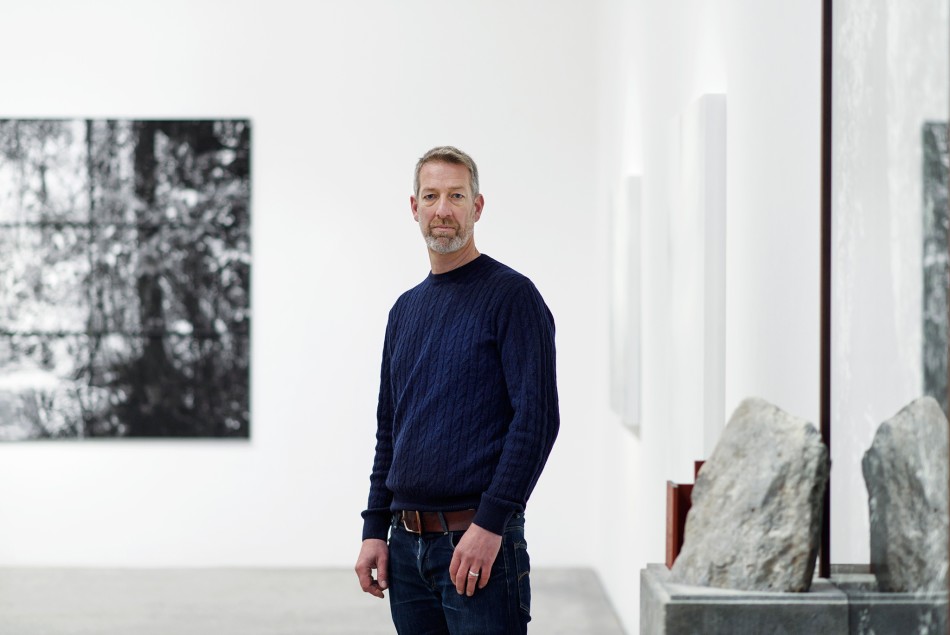 Posted from Victoria Miro Editorial
What is the inspiration for your new monochromatic works?
"The monochrome works come from the period when I was living in LA. In a way they grew out of the climbing work I made in 2003, LA Climbs, which applies the rules of a climber's guidebook to a selection of Los Angeles architecture, describing routes over both the iconic and the ordinary. For that, I visited examples of modernist domestic architecture with my guide book, but you couldn't really see the houses because of walls or fences or the foliage that had grown up around them. My crawling around in hedges to see the buildings became part of that project and I also ended up with this bank of photos of buildings seen through foliage. These started to tie in with both the outdoor work for this exhibition and the ideas for the entire show."
Some of the buildings you've chosen are very famous…
"There are Neutra buildings, a couple of Eames Case Study Houses, a John Lautner building… For me, these are the finest examples of residential architecture. In that particular setting where modernism needs and relies on the landscape, it's all about trying to open out the architecture in order to have the garden and all that outside space become part of the building. But, in doing so, you end up having to defend that building with the edges of your property, because otherwise you're just living inside a glass box."
November 18, 2016
I'm interested in the idea of the viewpoint, the frame and the boundary and in turn how that relates to architecture in nature.