Maria Nepomuceno: Sim
11 November 2016 - 14 January 2017
Victoria Miro Mayfair
Maria Nepomuceno: Sim
11 November 2016 - 14 January 2017
Victoria Miro Mayfair
Information
14 St George Street, London W1S 1FE
Vibrant and seductive floor- and wall-based sculptural works feature in this exhibition, the artist's first at Victoria Miro Mayfair. Displaying a characteristically dynamic approach to form, these new works expand upon the Rio de Janeiro-based artist's methods of rope weaving and straw braiding, in which pre-existing and found elements such as branches, twigs, seed pods, playful ceramic forms and paint brushes merge with the organic forms of the sculptures. Nepomuceno's works are chromatically, culturally and metaphorically rich, suggesting animals, plants, the human body and landscapes ranging from the microscopic to the macroscopic. That the sculptures appear anthropomorphic and organic is essential to a reading of the work: the spiraling central to Nepomuceno's process relates to the spirals occurring naturally throughout the universe, giving shape to entire galaxies as well as the blueprint for existence, DNA.
In Focus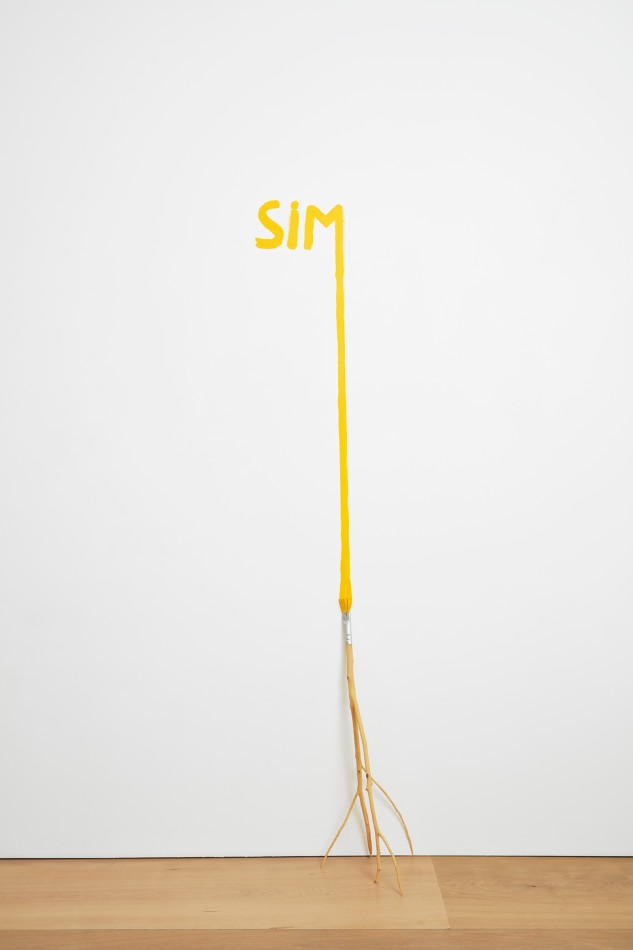 Posted from Victoria Miro Editorial
First of all, tell us about the title of exhibition.
"Sim, which means yes in Portuguese, is a word I like very much. It ties in with the ideas for the show, such as beginnings, things being created and expanded. It also makes reference to Yoko Ono's famous text piece, which she showed in London when she and John Lennon first met. It's affirmative but of course it's also very subjective."
We could all use some affirmation right now…
"Yes, I think we are in a moment in the world where things are going along a certain path and it feels very retrogressive. The first piece you see in this exhibition is very much like a birth, a generation of life, with beads radiating outwards. Most of the pieces in the exhibition have a deliberate crack or fault, or they contain a piece of ceramic or fibreglass that appears to split open. There is very much this idea of something that, at one moment, went wrong or failed, and it had another chance. I want the work to have a spirit of possibility and of generosity."
November 11, 2016
I want the work to have a spirit of possibility and of generosity.