About the Artist
Using traditional methods of rope weaving and straw braiding as well as techniques of her own design Maria Nepomuceno has, since the the early 2000s, developed a process of sewing coils of coloured rope in spirals. She explores the potentially endless permutations of this adaptable form in sculptures and installations that incorporate beads, playful ceramic forms and found objects of varying sizes. Often realised in carnival-bright colours, these works are chromatically, culturally and metaphorically rich, suggesting animals, plants, the human body and landscape ranging from the microscopic to the macrocosmic.
In Focus
Posted from The Financial Times
On a lightless winter afternoon earlier this year, when London felt like a watercolour by a painter with only grey in her palette, I dropped into Victoria Miro's Islington gallery to see a new show by Maria Nepomuceno. Assembled from radiant ropes and beads that coiled into tight curves and spiralled into serpentine tentacles, the Brazilian artist's sculptures sent the winter blues packing as efficiently as a trip to the Caribbean. Were we in a tropical jungle? Shimmying to samba on a carnival float? Or had we been transported to a Utopian life system where cells and organs sprouted with shameless fecundity?…
November 28, 2014
Let's try and think about how we might be able to make things rather than buy them and then throw them away in the trash.
Previous exhibitions at Victoria Miro
13 March - 17 April 2014
TRANS
An exhibition featuring a vibrant and seductive series of sculptural installations and interventions. For this exhibition, the Rio de Janeiro-based Nepomuceno expands her characteristically dynamic approach to form, using traditional methods of rope weaving and straw braiding as well as...
Victoria Miro Gallery II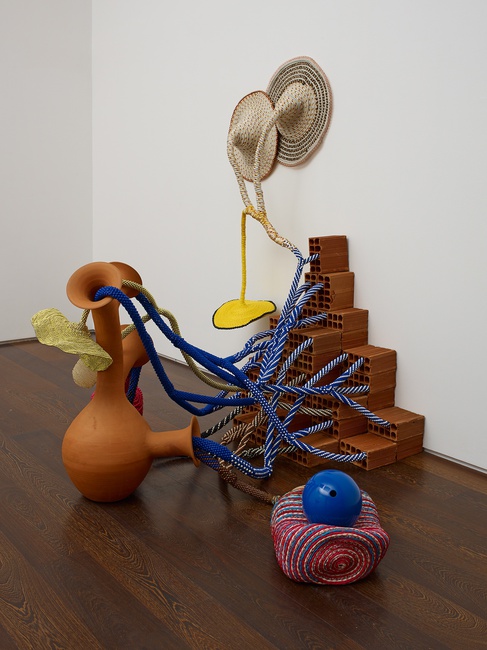 12 October - 12 November 2011
The Force
Victoria Miro is pleased to present new work by Brazilian artist Maria Nepomuceno, whose seductive sculptures and installations made of brightly coloured rope, straw, ceramic and beads spread throughout the spaces they inhabit: they varyingly hang in hammock-like forms, drape...
Victoria Miro Garden
7 May - 12 June 2010
Maria Nepomuceno's woven and beaded sculptures feel entirely self-sufficient. They're at once charming and mysterious, relaxed and vivacious, like the never-entirely-gentle Rio environment that produced them. Holland Cotter, The New York Times Victoria Miro is delighted to announce an exhibition...
Victoria Miro Gallery I