Alex Hartley: The Houses
21 June - 28 July 2018
Victoria Miro Mayfair
Information
14 St George Street, London W1S 1FE
The Houses is a series of new wall-based works by Alex Hartley inspired by iconic examples of modernist domestic architecture.
Read the online exhibition publication
Alex Hartley's work addresses complicated and sometimes contradictory attitudes toward the built and natural environments, showing us new ways of physically experiencing and thinking about our constructed surroundings. In The Houses he brings together photographic and overlaid painterly elements to examine the idea of the viewpoint, the frame and the boundary – between interior and exterior, manmade and natural environments, public and private space, two and three dimensions. Iconic examples of modernist domestic architecture, photographed by the artist over the past twenty-five years, primarily in Los Angeles, form the basis of these atmospheric monochrome works, in which the photographic image lies separated beneath hand-painted elements – describing and embellishing a verdant landscape – applied directly to a layer of semi-transparent acrylic.
In Focus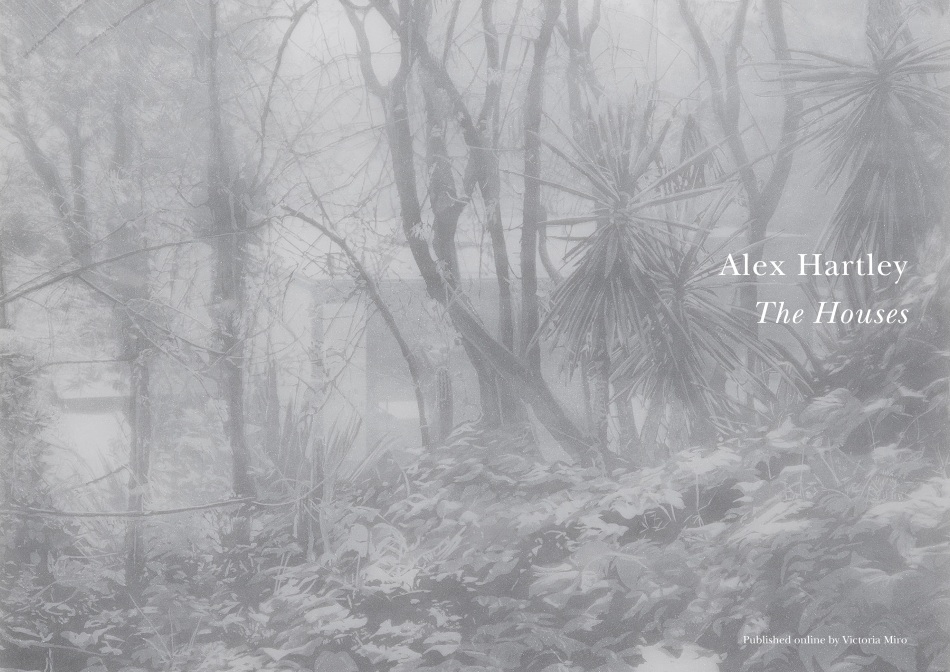 Do you think of them as paintings or sculptures?
'I have been calling them sculptures. It's interesting because they contain painted elements, and they relate to painting in that they are the size and scale of canvases, but because they have this complex relationship with two and three dimensions, to me they are still sculptures. Really, I think of them as being portraits of these buildings.'
Why portraits?
'I think, because of my twenty-odd year obsession with these houses, they do have personalities to me. And often, while many of these buildings are very famous, the image of them you might find in a magazine or architecture journal doesn't seem to me to reveal the personality of the building. I think that's partially why I was driven to take on those angles and viewpoints, because the idea of approaching something obliquely is similar to the way that you might make a portrait, as a way of getting closer to the real thing…'
July 5, 2018
I think of them as being portraits of these buildings
Gallery Exhibitions: Current and Upcoming