Stan Douglas: Doppelgänger
31 January - 14 March 2020
Victoria Miro Gallery I
Stan Douglas: Doppelgänger
31 January - 14 March 2020
Victoria Miro Gallery I
Information
16 Wharf Road, London N1 7RW
Victoria Miro is pleased to present Doppelgänger, a video installation by Stan Douglas. Debuted at La Biennale di Venezia, 58th International Art Exhibition, May You Live in Interesting Times, this ambitious work is exhibited for the first time in the UK. Doppelgänger is concurrently on view at David Zwirner, New York, until 22 February 2020.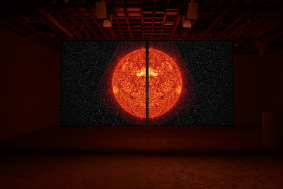 Stan Douglas talks to Interview
Stan Douglas, the Canadian video artist and photographer, likes to think about when things go awry. This is the premise of his video installation, Doppelgänger, currently on view at David Zwirner in New York and Victoria Miro in London. As its title suggests, the work, which premiered at the Venice Biennale in 2019, is a tale of doubles. Douglas's video, projected on two translucent screens, visible on both sides, centers around two parallel realities – two Earths orbiting at opposite ends of the galaxy, unaware that they're identical to each other.
Image: Stan Douglas, Doppelgänger, 2019
Installation view, Victoria Miro, 31 January–14 March 2020
© Stan Douglas, courtesy the artist, Victoria Miro, and David Zwirner
Photography: Ben Westoby