Tal R: Sexshops
20 September - 20 December 2017
Victoria Miro Gallery I
Tal R: Sexshops
20 September - 20 December 2017
Victoria Miro Gallery I
Information
16 Wharf Road, London N1 7RW
With their areas of flat, unmodulated colour and deceptively simple compositions, Tal R's paintings have long questioned our conception of and presumptions about our surrounding reality – what we see and where its meaning and beauty lies. In these new works he brings a quizzical eye to the largely unconscious actions of seduction, desire and gratification. Approaching his subject matter non-judgementally, Tal R sees the sex shop façade as being metaphorically allied to the function of desire within a painting. For the artist, that which is on display is only successful in as much as it activates the imagination, hinting at something tantalisingly out of reach; in the 'back room' as the artist says – unseen and unknown. Keeping us on the outside is a deliberate creative strategy. Working from photographs, some sent by friends and acquaintances from around the world, Tal R is on the outside too: shut out by closed doors and frosted windows, which he paints with varying degrees of abstraction in dazzlingly seductive hues.
In Focus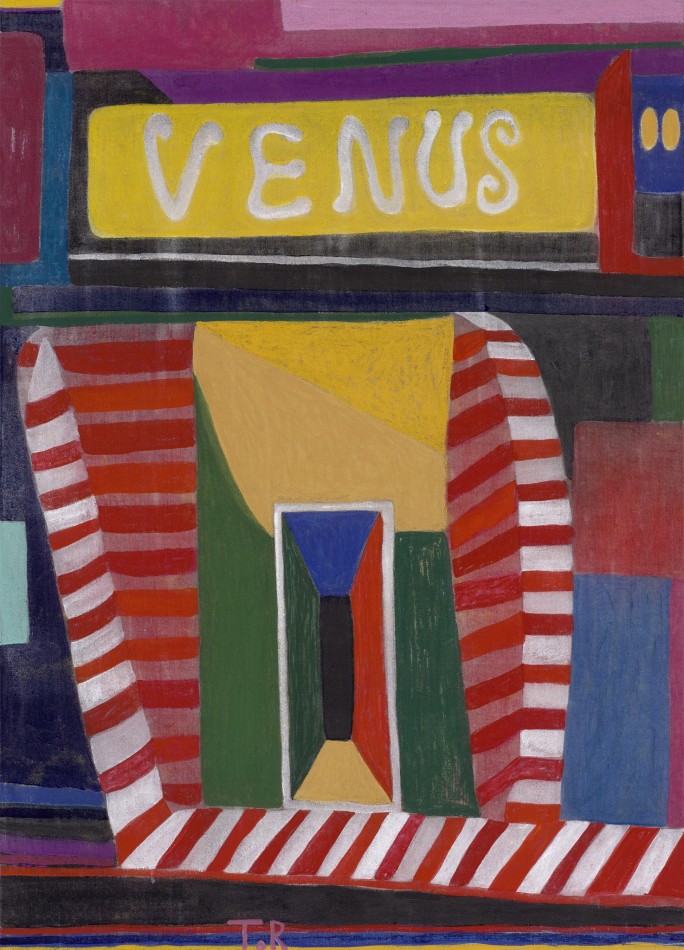 Posted from ArtReview
It's not often that you hear 'pleasure' mentioned in the context of contemporary art these days. Somehow, in these times of refugee crises, the rise of various forms of radical nationalism, the discourse of politics degenerating into an exchange of insults, the natural environment becoming less and less natural, if not gradually destroyed, and the gulf between rich and poor ever increasing, the notion of contemporary art being a source of pleasure (rather than critique or reflection) seems unfashionable, untopical and, well, generally unrealistic in terms of the world we actually inhabit. And these days we want art to speak to that world. Listen to so-called learned sense about art today and you'll find yourself pounded by the distinct opinion that finding pleasure in art is old-fashioned, even immoral. Anyone who visited this year's Documenta learned that. And, to an extent, it's probably the impression that you're left with after reading magazines like this one too.
Space is hinted at only so that its absence can be revealed