Alice Neel, Uptown
18 May - 29 July 2017
Victoria Miro Gallery I
Information
16 Wharf Road, London N1 7RW
Tuesday - Saturday: 10.00am - 6.00pm. Closed Saturday 27 May for the bank holiday.
Curated by the celebrated US critic and author Hilton Als, Alice Neel, Uptown focuses on paintings made by the artist during the five decades in which she lived and worked in upper Manhattan, first in Spanish (East) Harlem, where she moved in 1938, and, later, the Upper West Side, where she lived from 1962 until her death in 1984. An accompanying book, jointly published by David Zwirner Books and Victoria Miro, includes essays by Hilton Als on individual portraits and their sitters, in addition to new scholarship by Jeremy Lewison.
In Focus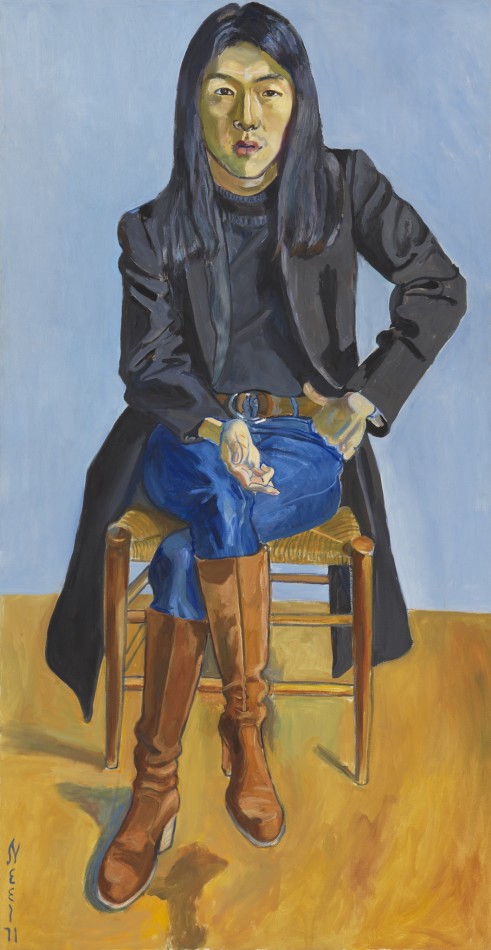 An extract from the accompanying book, published by David Zwirner Books and Victoria Miro
… At the time he sat for Neel, Kajiwara was at the epicenter of a new kind of show-biz hip; her portrait is as much a report about that particular New York phenomenon as it is a record of style as a way of being—a post-Whistlerian illustration of modernism at work, inherently queer, bristling with attitude and dandy distance and an almost feminine softness or yearning behind the pretend armor. In her important 1973 essay on style, Kenndy Fraser writes that the stylish "must keep leaping up and sniping at complacency. The slightest softening, or a tilt in the direction of coziness or caution, could cause the death of style." Indeed, there is a certain playfulness and hardness that Kajiwara shows in the world of this painting: a world made vertical by Neel, thus emphasizing her subject's thinness, his long hand and knee-high boots.
He wears a coat that Baudelaire, one of the more original dandies, might have envied.
Gallery Exhibitions: Current and Upcoming