Hernan Bas reflects on his time at Cambridge and shares his source material for his new body of work
Here, Bas shares some of his source material, reveals works in progress and reflects on his time in the city and its influence on his latest body of work.
Invited as a visiting artist by Jesus College Cambridge during the autumn of 2016, US artist Hernan Bas spent time in the college and city researching the legends, rituals and rites of Cambridge life, past and present, from its legendary drinking societies to its daredevil 'Night Climbers'. A year in the making, the resulting paintings and works on paper can be seen in Cambridge Living at Victoria Miro Mayfair (6 September – 21 October 2017).
Long interested in history and literature and in figuring historical and mythological narratives within the imagery and iconography of popular culture, fashion, queer culture and mysticism, Bas has focused increasingly on English subject matter during the past few years. Cambridge Living follows the exhibitions Bright Young Things, in New York in 2016, and Bloomsbury Revisited, shown earlier this year in Zurich. Cambridge is a connecting thread. Bas explains, 'The characters that inspired those earlier series are Cambridge alums as well, also Oxford – but at the risk of being shot, from an American standpoint Oxford and Cambridge are pretty interchangeable!'
Punting beneath the Bridge of Sighs. The famous covered bridge features in Bas' painting Charon on the River Cam (Slain Swans), 2017.
New subject matter developed during his residency includes the Night Climbers of Cambridge – 'a group of students who made a game of scaling the churches and other buildings of the city in the late 1930s. Crazy dangerous!,' says Bas.
The notoriety of this thrill-seeking fraternity was cemented when an eponymous book, written under the pseudonym Whipplesnaith, was published by Chatto and Windus in 1937, featuring photographs of members perched atop steeples and squeezed between pillars without climbing ropes and often dressed in dapper evening attire.
Surfing trans-historical currents, Bas gives his own Cambridge Nightclimbers, 2017, a contemporary uniform of T-shirts and hoodies. A sense of ascent – physical, emotional, perhaps even amorous – is enhanced by the vertical format of the work.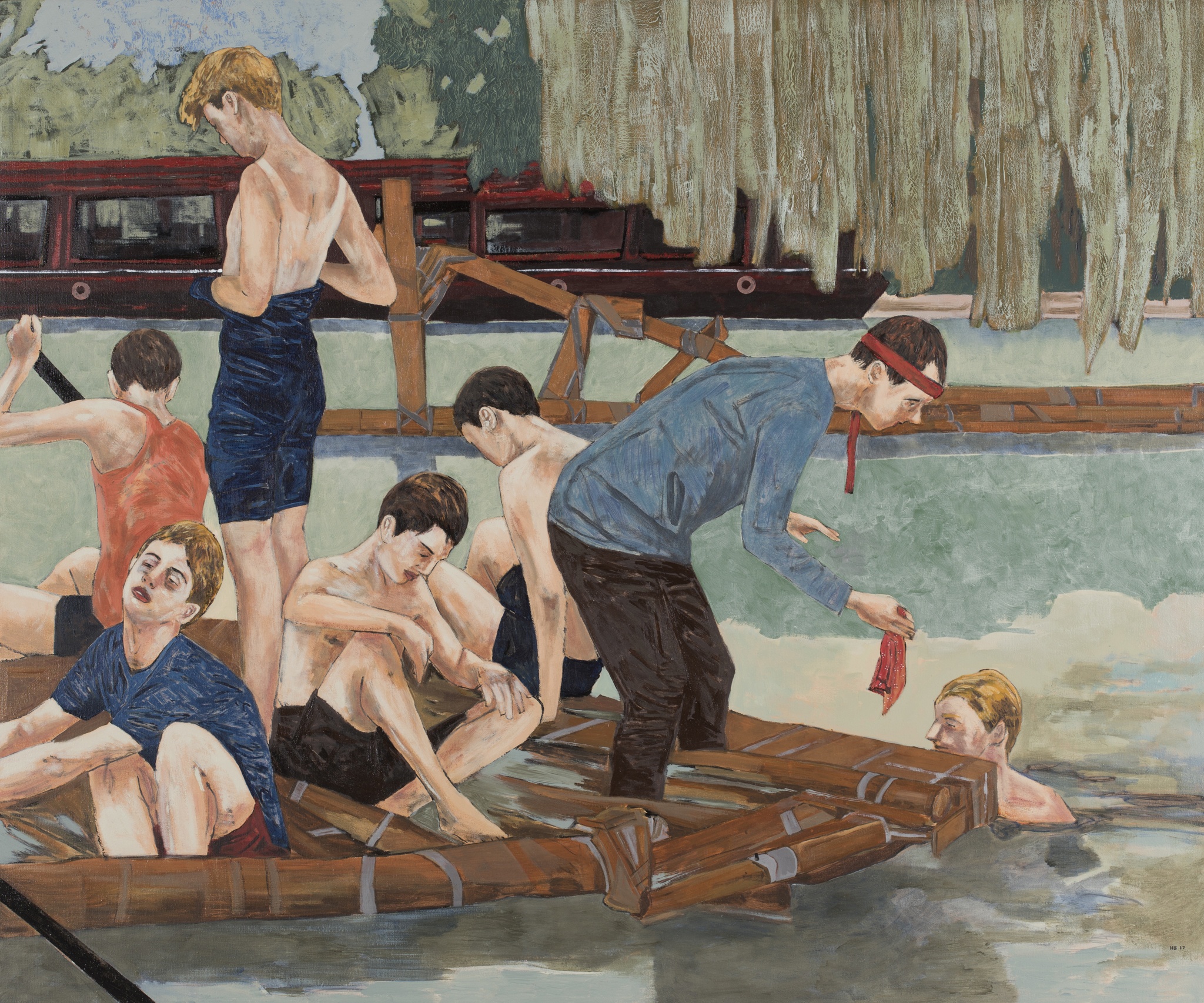 The notorious after-exams party Suicide Sunday which, Bas explains, 'involves the construction of poor cardboard boats which are raced with unsurprisingly bad – sinking – results,' is rendered elegantly classical in the largescale painting Suicide Sunday (Taking on Water), 2017. 'I'm making a nod to the Raft of the Medusa with that one,' says the artist.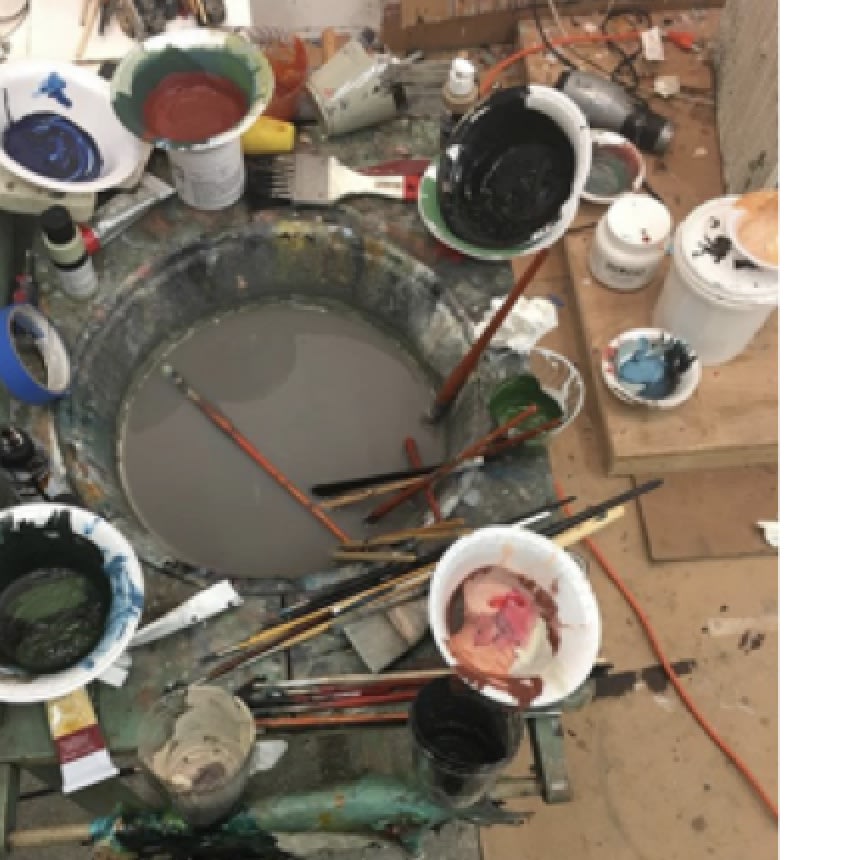 Bas is as prodigious in his experimentation with painting materials and techniques as with his reference points and source material. Inspired by an exhibition of illuminated manuscripts at the Fitzwilliam Museum, which included a vitrine containing the pigments used to create them, he has recently begun to make his own paints from raw pigments, the results of which can be seen in these paintings on linen and painted works on paper. 'I've become slightly obsessed with them after seeing the Fitzwilliam show,' Bas says. 'And yes, I know I need to change the water.'

Inspired by the exhibition Gauguin: Artist as Alchemist at The Art Institute of Chicago, Bas has, as he puts it, 'gone mad with making ink transfer drawings.' Subjects include portraits of freshers – a term unfamiliar to the artist prior to his stay in Cambridge.
The appeal of hothouse varsity life to an artist who has spent his career weaving together elaborate narratives surrounding cults, sects and secret societies, nihilistic romanticism and youthful abandon is abundantly clear. The works pulse with a sense of camaraderie, transgression, eroticism and decadence.
'I don't see the series as a critique on the privileged atmosphere of Cambridge, although it is startling present when you're there,' says Bas. 'I was simply an observer and spent most of my time eagerly seeking out stories and lore, whether it was gossip about a future king's mishaps or tracing the footsteps of Lord Byron...'
September 6, 2017