About the Artist
Imbued with an appearance of scientific rationality, Conrad Shawcross' sculptures explore subjects that lie on the borders of geometry and philosophy, physics and metaphysics. Inspired by different technologies, the artist's structures may retain in appearance the authority of machines – yet, they remain enigmatic, filled with paradox and wonder. Some have an absurdist melancholy feel, while others tend to the sublime, substituting the purely functional for phenomenological experience. Ultimately, Shawcross's art questions what we take for granted and encourages us to see beyond the physical.
In Focus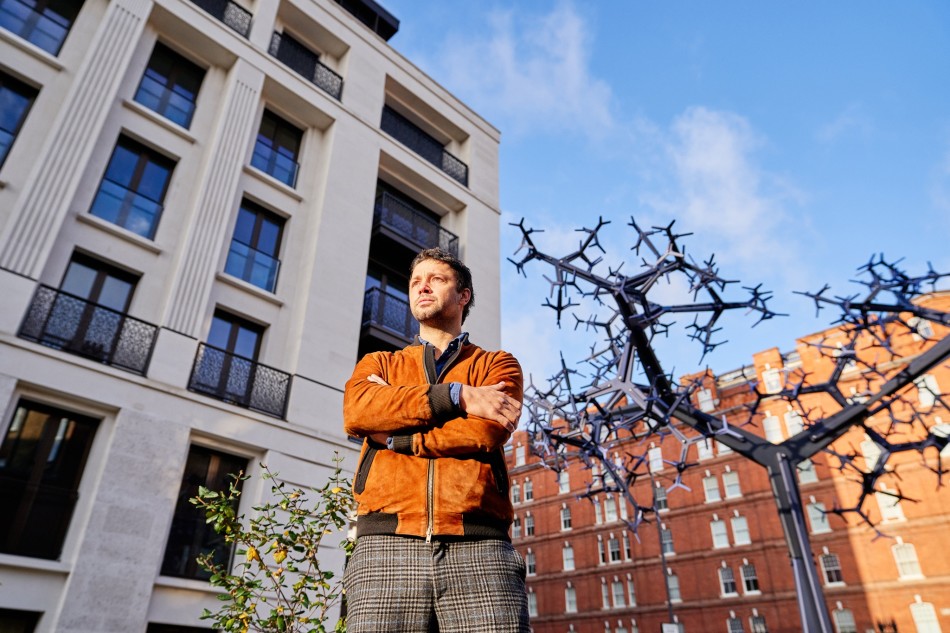 Conrad Shawcross talks to GQ
Conrad Shawcross is a British sculptor who works with the complex philosophy of science and nature. Shawcross says that his sculptures sometimes appear like "childlike stacks of blocks", however, they always continue to create an abstract architectural impression on the environment. Shawcross' most recent piece is titled Bicameral and is part of a London series of commissions including Paradigm at the Francis Crick Institute and the upcoming Manifold (Major Third) 5:4 at the new Liverpool Street station for Crossrail.
Bicameral acts as a catalyst encouraging passersby to pause and look up as they wander underneath the shadows of this tree-like canopy. The structure of this man-made tree is suggestive of both natural tree formations as well as the neural human brain construction. This is a prime example of Shawcross' focus between science and nature, whereby the physics and maths of formation is integral to his artwork. Read on to find out more about his previous work at the Saatchi Gallery and what one piece of art he dreams of owning...
Image: Portrait of Conrad Shawcross, 2019
Photography: Dominic James
The work is in some ways an Arcadian symbol for reason, humanity, rationalism, progress and above all hope…
Previous exhibitions at Victoria Miro